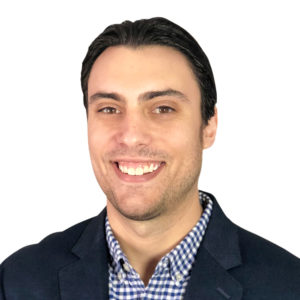 Bryan Ganek
Account Executive
The confidence builder.
Bryan is a laidback and approachable person who puts everyone at ease. He loves great conversation and has a Bachelor of Arts in Communications from Concordia University Chicago.
Backed by over a decade of industry experience, Bryan is a highly skilled event and project manager who is adept at problem-solving and multi-tasking. He loves challenging himself and overcoming the obstacles that stand in his way. This is evident by one of his proudest accomplishments: completing a marathon while having a complete tear of the meniscus in his left knee.
Bryan has a passion for learning new things and lives by his motto of "live, love, laugh, and learn every day". In his free time, Bryan enjoys being with his wife, who owns a successful makeup and hair business, and their son, who was born in November 2017. He also enjoys golfing and walking the dog with his family.
What's your favorite past-time?
Golfing, and/or walking our dog with my wife.
Do you have a pet? Name and what they are.
Roy. He's a seven-year-old American Bulldog and Boxer mix.
Favorite city?
Nashville. Great music, great food, friendly people, warm weather.
If you were to star in a TV show, which one?
Walking Dead. Everyone talks about "living" in a zombie apocalypse. I would love to experience it.
Why you love working in the events industry.
I love problem-solving and seeing the end result of a well-executed event.