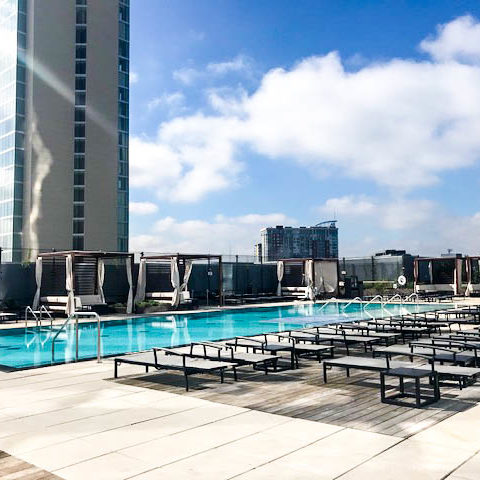 The Music City Paradise
Traveler: Laura Gebhardt
Location: Nashville, Tennessee
Hotels Visited: JW Marriott and The Thompson
What attracts you to a city? Is it the night life? The tourist activities that are offered? The delicious local hole in the wall restaurants or coffee shops? Maybe it is the history of the city or perhaps it's the music and concerts?
What if you could go somewhere that is only a 45 minute flight from Chicago and offers all of those elements? Would you do it? One of our colleagues Laura recently got to do just that!
Laura attended an on-site program in Nashville Tennessee in September where she spent time with clients for on-site inspections and assisting with exhibit booths.
Laura found the JW Marriott to have very functional meeting space, great outlet options, and a good location in The Gulch neighborhood. It was also near the Nashville Music City Center. Laura also stayed at the Thompson hotel which is right in the middle of the Gulch neighborhood and has a nice, sleek, and modern design.
But as Laura learned, you cannot go to Nashville without experiencing some of the city and the fun activities it has to offer. Laura came back with some new-found knowledge of must visit places and activities to do while in Nashville. Some of these activities are listed below!
Touris(ty)
Nashville Pedal Tavern: Want to see the city in a unique and fun way? Then Pedal Tavern is the way to go. Pedal Tavern provides a two-hour scenic route of Nashville, that you can join in with friends or make new ones on the way. Plus with BYOB, you can't go wrong with this fun night out.
Don't forget the java
Killebrew Coffee: There is always that one coffee shop in a city that tends to stand out among the rest. For Nashville, that coffee shop is Killebrew Coffee. Located on the ground floor of the Thompson Hotel, Killebrew has become a neighborhood favorite. Since Laura basically became a local within the 6 days she was there, it makes sense that their coffee appealed to her as well!
Music & History, all in one!
Country Music Hall of Fame: The Country Music Hall of Fame is a museum that provides people with the rich history that country music brings all the way back from the nineteenth century to new and more modern stories of country musicians today.
Ryman Auditorium: The Ryman history goes back 126 years. With time, come stories, and the Ryman has many haunted stories that are shared at the Haunted History Tour. But don't fret, maybe listening to creepy unexplained sightings isn't your cup of tea, there are still plenty of concerts you can attend at the Ryman.
All in all, Laura loved Nashville and the bright and vibrant atmosphere it has to offer.
Back To Blog