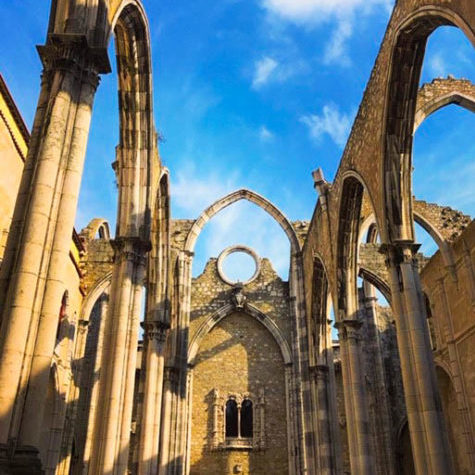 From Portugal to Paris
Traveler: Amanda Reece
Location: Portugal and Paris
Amanda recently visited Portugal to see what this vibrant destination has to offer in terms of hotels and activities. Paris is only a 2.5 hour flight from Portugal, so Amanda was able to squeeze a couple days in the City of Lights as well!
Situated in Lisbon is the Corinthia Hotel, sitting amongst many fun activities! For all the Harry Potter lovers, you will want to see the Corinthia Hotel's charming lobby that is adorned in Harry Potter themed Christmas décor.
Meeting spaces at the Corinthia offer both large and more intimate settings depending on the occasion. The Conference Centre at the Corinthia has a 1,400 delegates capacity with supreme elegance and technological ease. Each guest room possesses a modern flair that combines comfort, style, and of course luxury.
Favorite Local Flavors:
Doca Peixe Restaurante sits on a doc directly under the 25 de Abril Suspension Bridge. Fun fact! The Abril Suspension Bridge is the Golden Gate's sister bridge! The decadent flavors in the white fish had Amanda's taste buds dancing.
Kais Restaurate is another notable local flavor. The restaurant is a renovated warehouse that is now presented with a rustic/modern feel. The high vaulted ceilings create a spacious and inviting aesthetic. Kai's provides a substantial amount of room for events, and there is even a small wine cellar where guests can have a unique and memorable dining experience.
Notable Places to Visit:
Sao Jorge Castle boasts some of the most beautiful viewing points of the city. Amanda recommends sitting back and taking in all the views with a nice glass of wine.
Another prominent point of interest is the Carmo Convent Ruins. The earthquake in 1755 destroyed much of the city, but the arches of the convent still stand tall to this day. Another location that withstood the earthquake is Xabregas Palace. Xabregas Palace holds intricately decorated rooms with the famous Portugal tile, lending space for group dinners and outings.
Bon Voyage to Paris:
Amanda was able to travel to Paris for a couple days as well. The obvious place to visit is of course the Eiffel Tower. However, Amanda recommends visiting the Arc De Triomphe for some lovely views of the city.
The architecture of the Louvre Museum will surely catch your eye and reel you into all that this museum has to offer. The Louvre is the largest art museum in the world and is home to the Mona Lisa along with numerous other pieces of art that will surely keep you busy for hours.
Amanda enjoyed her journey through Paris and Portugal and hopes to visit again soon to experience even more that each unique destination has in store!
Back To Blog