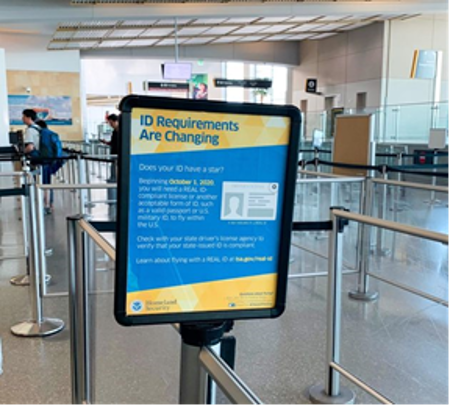 You'll Thank Us All In The Fall
The Winter isn't even over and we're going to do the equivalent of those stores that put out their Halloween candy early. No, we mean, super early. Even earlier than that!
We think it's really important to warn you now about something that's about to happen. In October!
Please don't blame the messenger, but it's for your own good. Because when you're stuck needing a passport to complete a domestic flight and you say, "Hey, why didn't anyone warn me?", that's when you'll think of us.
The news is that as of October 1, 2020, you'll need a REAL ID, a passport or some other acceptable form of ID to segue through a TSA checkpoint to board a domestic flight.
In a recent article in Travel Pulse, Patrick Clarke noted that approximately 99 million Americans have yet to secure a REAL ID. "Requirements to obtain a REAL ID-compliant driver's license vary by state so be sure to check the website of the state you live in to save time, stress and guarantee the smoothest application process possible." DMV.org is another great resource.
Among the things you'll need before heading to the DMV are:
• Your marriage certificate or divorce decree if your name isn't the same on all of the necessary proof documents.
• Proof of identity like your birth certificate or passport.
• Proof of your social security number.
• Proof of residency, like a monthly mortgage statement, bank or credit card statement or utility bill.
Follow these steps and flying will be a whole lot less scary later this year.
Back To Blog