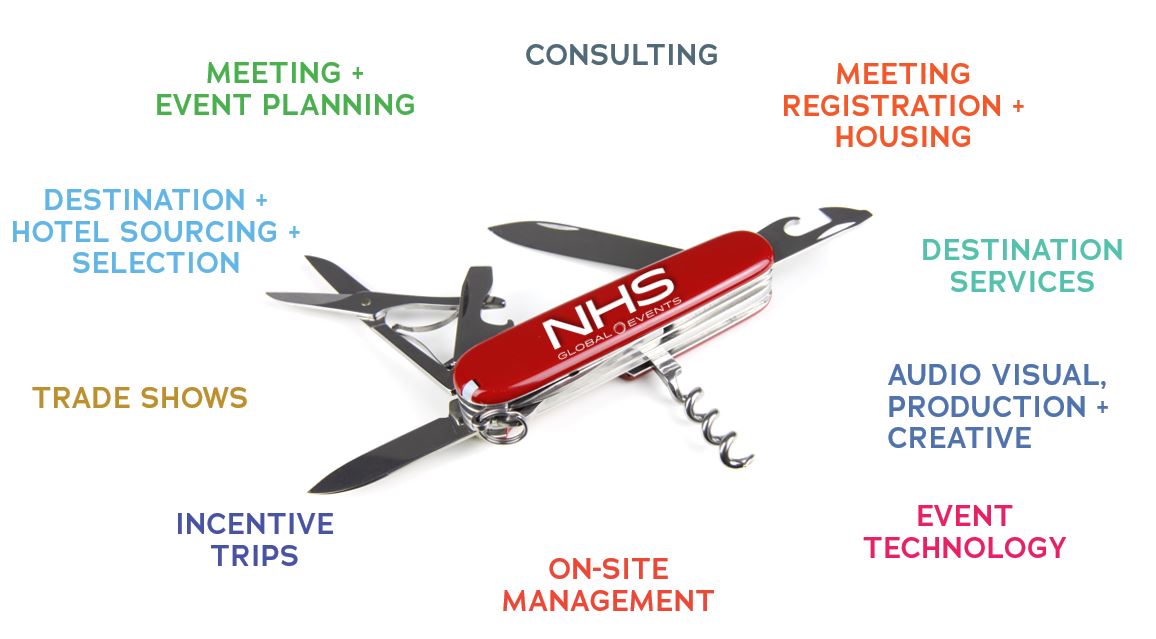 Why So Many People Confuse NHS Global Events For A Swiss Army Knife
Back in the late 1880s, the Swiss Army needed an instrument for its soldiers that could open canned food and disassemble their rifles with a screwdriver. In Ibach, Switzerland, Karl Elsener came up with the design and they began to be produced (in Germany, actually!).
In 1896, more tools were attached to create the offiziersmesser or officer's knife and it became a global sensation. When American soldiers encountered them, they had difficulty pronouncing the name and thus started referring to them as the Swiss Army Knife.
"That uncanny ability to have the next tool you need there in your kit, or in this case your knife, is why NHS Global Events is commonly thought of as a Swiss Army Knife," NHS Global Events President Bill Lynch says. "You start with us for venue sourcing and soon realize you also need help with meeting services like event design, logistics or supplier management. We take pride in being relevant to the evolving needs that our clients face."
And while NHS Global Events doesn't provide a fish scaler, shackle opener, tweezers or a hoof cleaner (although we would if you really did need them) like the Swiss Army Knife, we can handle your needs for destination services, incentive travel, association management or consulting.
You can reach for the Swiss Army knife when you're in need of a toothpick, pharmaceutical spatula or pressurized ballpoint pen (provided you have the right model). You should reach for the phone to call NHS Global Events when you need help with planning your next meeting or event.
Back To Blog